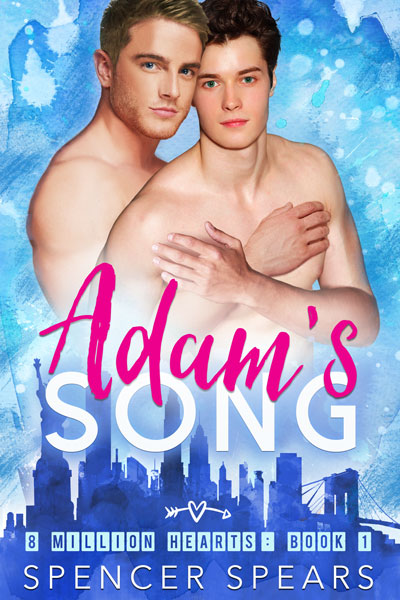 They say it's a bad idea to fall for your best friend. But since when do I say no to bad ideas?
Adam: It's not like I wanted to fall in love with Ben. When we first met in college, I thought he'd be like every other hot jock who'd made my life hell in high school. It's not my fault he turned out to be sweet, funny, and insanely talented. We moved to New York after college to break into the music business and of course Ben got signed by a major label—they'd be stupid not to want him. But even though he's a famous popstar now, he still wants to be friends with a nobody like me. Honestly, if he didn't want me falling for him, he should have been less goddamn perfect.
Well, except for the part where he's straight. Did I forget to mention that?
In my defense, responsible decision-making has never been my strong suit. Case in point—collapsing on stage, guitar in hand, after discovering my then-boyfriend, now-ex was cheating on me, and downing a bottle of bourbon in response. But I'm cleaning up my act—no more hiding in the closet and no more bad life choices. But that also means no more waiting around for the day Ben magically decides he likes di…sgustingly sappy guys with secret crushes on him (aka me).
So why did Ben have to pick now to make me question everything I thought I knew about us?
"I've never wanted anything as much as I want you right now. When I see you, something inside me lights up."
Ben: It's not like I planned this. I was on tour when Adam collapsed back in New York and he wouldn't even let me come home early to visit him. But that's Adam for you—brilliant, breathtaking, and pathologically afraid of vulnerability. All I wanted was to be there for him—and him coming out didn't change that in the slightest. Yeah, I couldn't help seeing him a little differently. And no, I couldn't quite explain why I was suddenly noticing the curve of his back, the freckles on his cheeks, or wondering what his lips tasted like. But whatever weird awakening I was having, Adam needed support, not more confusion.
And then I kissed him. Whoops.
And I know it's fast. I know it's unexpected. I know my label would be livid if they found out I was dating a guy. But I also know—deeply and inexplicably—that this could be something real. I just have to convince Adam of the same thing. Beautiful, broken Adam who looks at the world through 14 layers of irony. Adam, who'd rather get an appendectomy than admit that he needs someone. Adam, who still doesn't know all of my secrets.
So do I convince him to risk everything—on me?
Adam's Song is Book 1 in the 8 Million Hearts series. While each book can be read on its own, they're even more fun to read together. Adam's Song is a 120,000 word m/m romance full of snark, sweetness, and a healthy serving of steam. Friends-to-lovers and hurt/comfort themes. No cheating, no cliffhangers, and a guaranteed HEA.
Adam's Song has been released in audiobook format!

FYI: I use affiliate links for books on this site, which means that I get a teeny tiny bonus if you purchase anything using those links, but the price for you remains the same. Win/win, right?