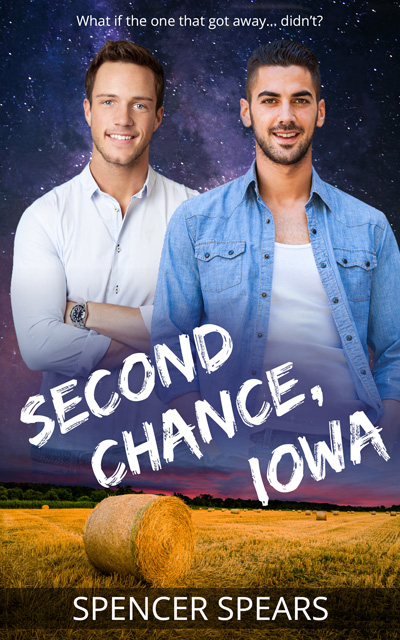 What if the one that got away… didn't?
Hometown hero Danny Garcia is proud of his small town life, thank you very much. After a devastating heartbreak, he fought tooth and nail to put his life back together again. All Danny wants now is a second chance at the happiness he never thought he'd get. But what if that second chance comes in the arms of the man who left him all those years ago?
"You think you can just waltz in and pick up right where you left off? You don't get to undo the past. You have to live with it."
"I hate myself for what I did. I know I can't take it back, but I just need you to know I'm sorry."
Bestselling author Colton Catherwood never thought he'd come back to Cherry Creek, Iowa. The small town is full of painful memories – his mother's death, his father's hateful beliefs about Colt's orientation, and, of course, Danny. Colt knows he hurt Danny and doesn't blame him for being angry about the past. But when his father's sudden illness forces Colt to come home, all his feelings for Danny come rushing back.
"Don't you want this?"
"Of course I want this. I never stopped wanting this. Never stopped wanting you."
Danny trusts Colt about as far as he can throw him – so why is Colt's return throwing him so far off balance? Danny's spent the past seven years getting over Colt and he could have sworn he finally felt nothing for the man. He's determined to keep it that way, but it sure would be easier if Colt would hurry up and leave town again.
As Colt adjusts to life back in Cherry Creek, he can't deny that his passion for Danny burns as strongly as it ever did. And he's sure Danny feels it too. So why won't he admit it? Colt wants to apologize, but Danny will barely give him the time of day. How can they ever move on if they can't even speak to each other?
"I never meant for us to end this way. I get it now. I'm bad for you. Having me in your life does nothing but hurt you."
"Please. I can't take another rejection right now. Especially not from you."
What Cherry Creek, Iowa lacks in size, it makes up for in drama. The longer Colt stays in town, the more the past becomes unburied and secrets get revealed. And as Colt and Danny are thrown together, it seems that fate has a sense of humor, because the town of Cherry Creek, Iowa used to have a different name – it was founded by a huckster scam artist who called it Second Chance. Will hurt feelings and lack of trust tear these two lovebirds apart again, or will Colt and Danny finally get the second chance they deserve?
Second Chance, Iowa is a steamy, 70,000 word second chance romance – a no cliffhanger standalone with an HEA ending.
FYI: I use affiliate links for books on this site, which means that I get a teeny tiny bonus if you purchase anything using those links, but the price for you remains the same. Win/win, right?